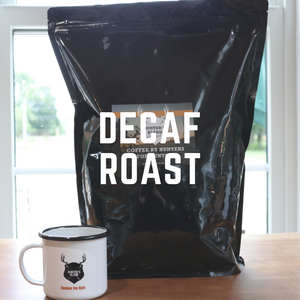 Decaf Blend | 5lbs
Sale price Price $91.00 Regular price Unit price / per
As our co-founder, Paul, says "coffee makes the hunting world go round." But sometimes you don't want that caffeine, and that's where our HBC Decaf comes in! Perfectly blended Central-American and African decaf coffees come together for a rich tasting decaf that tastes great.
Small batch roasted in Mechanicsburg, Ohio.
Save 5% when you subscribe (no other discount codes may be applied).
5lb Bag is equivalent to 6.5 12oz bags- this is a 10% savings.
FREE shipping!
When you choose to shop with us, you're not only getting great coffee and gear made by hunters, for hunters, you're also supporting the hunting community and way of life.
Most coffee importers view the world very differently than you and us. They support lobbyists who work against our hunting and Second Amendment rights. No matter whose name is on the bag, most coffee comes through one of those major importers.
We didn't feel right voting our hard-earned dollars toward brands who would see our lifestyle taken away. So let's raise our mugs together now to coffee with purpose!