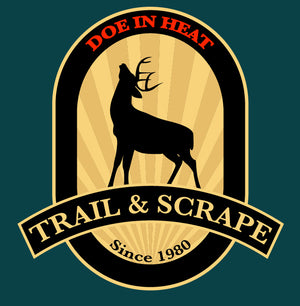 Trail & Scrape Scent | Estrus doe urine with buck tarsal - 16oz
Sale price Price $50.00 Regular price Unit price / per
Back in stock Fall of 2022
Will ship separately from other items in your cart
Comes in big, 
16 oz bottle
 and at $50/bottle, only 
$

3.13/ oz.
_________________________________
Using scent when making mock scrapes is a key ingredient to the success of those scrapes. But not all scents are created equal.  Many commercially available scents have been in storage for extended periods and have gone stale.  Some may have unnatural ingredients, such as preservatives, in hopes of extending shelf life. Trail & Scrape is made from the freshly collected urine of does in estrus, with buck tarsal added in to really grab that buck's attention.
This specific scent is the same scent that Jerry Everhart has been using for years with great success. We figured, why change something that has proven itself over and over.
Apply to licking branches and mock scrapes starting as early as September, and "freshen" those scrapes and licking branches every 7-10 days thereafter. To increase your odds, freshen the scrapes and licking branches the mornings that you hunt as well. We typically see several main benefits.
It provides a curiosity and interest factor for bucks and does traveling through, and they will often stop to check the scrapes and licking branches, providing an excellent shot opportunity without you needing to make a noise to try to get them to stop.

Their attention is elsewhere, rather than looking for you.

If you follow Jerry's scrape method, you will have scrapes all around you and the strong odor of the Trail & Scrape on the licking branches really helps cover any minimal scent you may be putting off
Store in a cool dry location, away from light. Do not freeze.