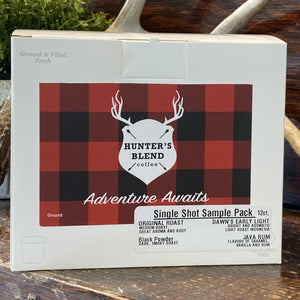 Sample Pack | Single Shots - 12 or 60ct.
Sale price Price $14.95 Regular price Unit price / per
Too many choices? Try all 4 of our coffees in a Single Shot 12 pack. 
Includes each of the following:
Original Roast- Medium/Dark Roast - Great Aroma and Body
Black Powder - Dark, Smoky Roast
Dawn's Early Light - Bright and Aromatic, Light Roast - Single Origin Indonesia
Java Rum - Flavors of Caramel, Vanilla and Rum, Medium Roast
Introducing our new Single Shot cups!
The freshest tasting coffee you've had from a single serve coffee pod.
Traditionally, coffee needs to degas (get stale) before filling single serve cups, or else the cups would burst.

We use a specially designed lid that allows us to fill the Single Shot cups with fresh-roasted coffee. The self healing silicone seal allows the carbon dioxide to escape without allowing oxygen into the cup- keeping the coffee fresh.                             You'll taste the difference from your first sip!
Roasted from direct trade sourced green coffee. We shake the hand of the farmer – literally.
Small batch roasted and packaged in Mechanicsburg, Ohio.
Case of 12 or 60 single cup pods.
When you choose to shop with us, you are getting great coffee and gear from freedom-loving, Patriotic Americans just like you. Most U.S. coffee importers are very woke and view our world and America very differently from you and us. They often support lobbyists who work against our fundamental freedoms, life of the unborn, etc. No matter whose name is on a bag of coffee, most coffee comes through one of those major importers. Well, we bypass the import chain by buying and importing our coffee directly from the farmers. So, from the farmer to your cup, your coffee has been in the hands of God-fearing, freedom-loving, Patriotic Americans! Bottoms Up!