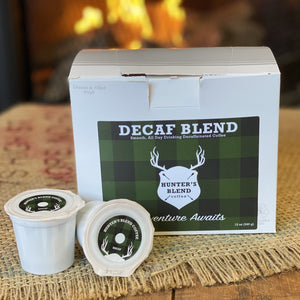 Decaf Blend | Single Shots
Sale price Price $14.95 Regular price Unit price / per
Decaf coffee gets a bad rap for having poor flavor. For some mysterious reason, coffee companies tend to use cheap beans to make decaf. Why? You're only drinking it for the flavor, right? So, we use the same specialty-grade coffee to make our Decaf as we do in our other roasts. Our Customers tell us they can't tell the difference!
This is the freshest tasting coffee you've had from a single serve coffee pod.
Traditionally, coffee needs to degas (get stale) before filling single serve cups, or else the cups would burst. 
We use a specially designed lid that allows us to fill the Single Shot cups with fresh-roasted coffee. The self healing silicone seal allows the carbon dioxide to escape without allowing oxygen into the cup - keeping the coffee fresh.
Perfectly roasted Central American coffee.
We import directly from the farmers.
Top 6% of all coffee.
Roasted and shipped fresh.
Case of 12 or 60 single cup pods.
Save 5% when you subscribe (other discounts do not apply).
When you choose to shop with us, you are getting great coffee and gear from freedom-loving, Patriotic Americans just like you. Most U.S. coffee importers are very woke and view our world and America very differently from you and us. They often support lobbyists who work against our fundamental freedoms, life of the unborn, etc. No matter whose name is on a bag of coffee, most coffee comes through one of those major importers. Well, we bypass the import chain by buying and importing our coffee directly from the farmers. So, from the farmer to your cup, your coffee has been in the hands of God-fearing, freedom-loving, Patriotic Americans! Bottoms Up!