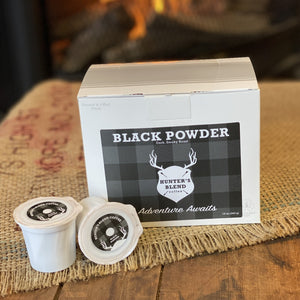 Black Powder Roast | Single Shots
Sale price Price $14.95 Regular price Unit price / per
As our co-founder, Paul, says "coffee makes the hunting world go round." 
Our DARK ROAST blend of Central American and East Asian coffee will get you out of bed and into the woods!
Introducing our new Single Shot cups!
The freshest tasting coffee you've had from a single serve coffee pod.
Traditionally, coffee needs to degas (get stale) before filling single serve cups, or else the cups would burst.

We use a specially designed lid that allows us to fill the Single Shot cups with fresh-roasted coffee. The self healing silicone seal allows the carbon dioxide to escape without allowing oxygen into the cup- keeping the coffee fresh.                             You'll taste the difference from your first sip!
Roasted from direct trade sourced green coffee. We shake the hand of the farmer – literally.
Small batch roasted and packaged in Mechanicsburg, Ohio.
Case of 12 or 60 single cup pods.
When you choose to shop with us, you're not only getting great coffee and gear made by hunters, for hunters, you're also supporting the hunting community and way of life.
Most coffee importers view the world very differently than you and us. They support lobbyists who work against our hunting and Second Amendment rights. No matter whose name is on the bag, most coffee comes through one of those major importers.
We didn't feel right voting our hard-earned dollars toward brands who would see our lifestyle taken away. So let's raise our mugs together now to coffee with purpose!